Balogh Satmar Mansion
Hajdúszoboszló, Ady Endre street 0545/21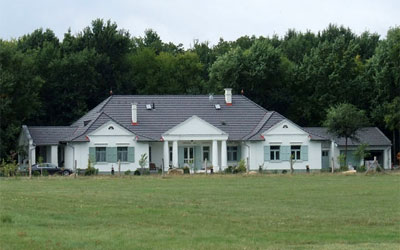 Newly built, 2014-from, available all year round Balogh Satmar Mansion is located directly on the border of Hajdúszoboszló, one 2,3 acre wooded grassy area.
Part of the mansion with guests 4 room, 2 bathroom with bathtub, a toilet, a separate shower, 1 the kitchen is a large living room which includes features. fireplace in the living room, which gives a magical atmosphere in the cool-cold days.
Because smoking is only possible outside the house after you dear non-smokers. covered and open terraces are made in front of the house, these few meters away from the grill, Stove for cook.
the shady, sunny, irrigated lawn, park, indoor flower garden hammock. Oak, elm forest bordering the garden provides fresh breath of fresh air is always here for rest areas. Boasting immediate vicinity of the house sod great walks, admiring flock of sheep grazing nearby.
The house is located 400m from the complex Reed Coast (www.nadaspart.hu), where you can bathe in nature is very nice environment, nature protection (Sandy beach), piknikezni, fishing, boat, kenut, rent a kayak.
The house can be seen in the city's indoor swimming pool in the famous thermal water park, health center, which is reachable by car in 5 ', which is located next to the sport airport. Horse riding is nearby, which can also be reached by car in 5 '.
In the yard 4 Car Parking. Internet access free. The remainder of the house of the family who uses, receive the guests and always there to help guests order, to rest in a memorable return to the house and are regularly attending.
call now!
+36 (20) 977-8624
+36 (70) 621-2815
Email:

Basic data
Number of rooms: 4 + living room
Bathroom with toilet: 2 db
separate shower: 1 db
Number of seats: 8 main, offer: 2+2+2+2
convenience
Furniture: modern
heating: gas central heating, fireplace
house area: 100 m2
total area: 2000 m2
Owner lives in the facility: again
Parking in the yard: 4 db
Spoken language: English
Amenities, features
Electric cooker, 2 refrigerator, Microwave, toaster, coffee-tea maker, cookware set, dinner set, dish soap, detergent, iron, ironing board, clothes dryer, washing machine, centrifuge, dishwasher, complete bathroom, bathtubs, garden tap, klasszicistaépítészet mood, forest, lawn, pasture,flower garden, periphery, nature is protected, mood lighting
Services
Satellite flat TV, fireplace, DVD, hifi, non-smoking, fireplace, cauldron, grill, garden furniture, open terrace, covered terrace, storage timber, Parking in the yard, sand box, swing, swingbed, internet, nearby fishing, sightseeing flights, skydiving


Please look at our establishments more: