Balogh Mansion
Hajdúszoboszló, East Main Channel D-109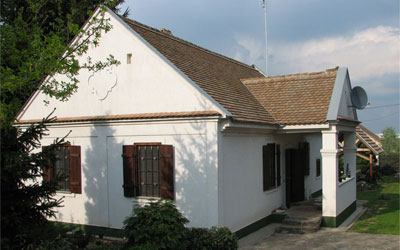 Newly built, 2014-from, Available all seasons * very nice "peasant-Renaissance" style, made of adobe house is located right on the shores of the Eastern Main Channel Hajdúszoboszlótól 3km away, Budapest direction. The stylishly decorated house 4 double room, 2 bathroom with shower and a separate toilet, 1 the kitchen also features a living room including.
ancient kiln-shaped fireplace in the living room, which gives a magical atmosphere in the cool-cold days. Because smoking is only possible outside the house after you dear non-smokers. covered terrace front of the house is constructed. The house is located behind the grill, Stove for cook.
the shady, sunny, indoor flower garden hammock, for children, climbing rope, ring, swing in. Trees around the house, bushes provide pleasant shade and always provide fresh air in the house for rest areas. The garden was built next to the fireplace is a large covered gazebo with table favázú, benches that provide the convenience of outdoor cooking and baking, the joint co-existence. The house 20 flow meters in the Eastern Main Channel, her own sunbathing, pier suitable angling. Plastic 2 Personal rowing boat rental.
The house is about. 5Reed km from the Beach complex (www.nadaspart.hu), where you can bathe in nature is very nice environment, nature protection (Sandy beach), piknikezni, fishing, boat, kenut, rent a kayak. Small pets are not a problem! The house is about. 6 km away from the city's indoor swimming pool in the famous thermal water park, health center, what about car. 15available 'within. Horse riding is nearby about. 4 km which is about. 10available 'within. The quiet, Peaceful excellent thermal bath is only Nádudvar 10 km-re of.
A family member(i) receive the guests and always there to help guests order, to rest in a memorable return to the house and are regularly attending.
*In the months that require heating the house renting private, time required to agreement, Having regard to the house for several days for heating, weather conditions. For these reasons, we reserve the right above, if so, we can not ensure housing.
call now!
+36 (20) 977-8624
+36 (70) 621-2815
Email:

Basic data
Number of rooms: 4 + living room
Bathroom: 2 db
separate toilet: 2 db
Number of seats: 8 main, offer: 2+2+2+2
Favázú pavilion in the garden table, padokkal
convenience
Furniture: modern, folksy
heating: central wood-burning
house area: 75 m2
total area: 450 m2
Owner lives in the facility: no
Parking in the yard: 4 db
Spoken language: English
Amenities, features
Gas stove, 2 refrigerator (one combination), Microwave, toaster, coffee-tea maker, cookware set, dinner set, dish soap, detergent, clothes dryer, complete bathroom, garden tap, folk architecture atmosphere, flower garden, pier, storage timber, reeds, Eastern Main Channel
Services
satellite TV, furnace hearth, non-smoking, dogs allowed, Pets allowed, fireplace, cauldron, grill, garden furniture, covered terrace, fishing, Parking in the yard, swing, swingbed, boat rental


Please look at our establishments more: